▊ In 2022, the fourth-generation 
F3 Max Xiaobaimai will be 
launched with a sensation! 
#
Exclusive black technology, dual Bluetooth 5.0 stereo two-way interconnection , double chorus super surround sound shock
Celebrities are recommended
Recommended by netizens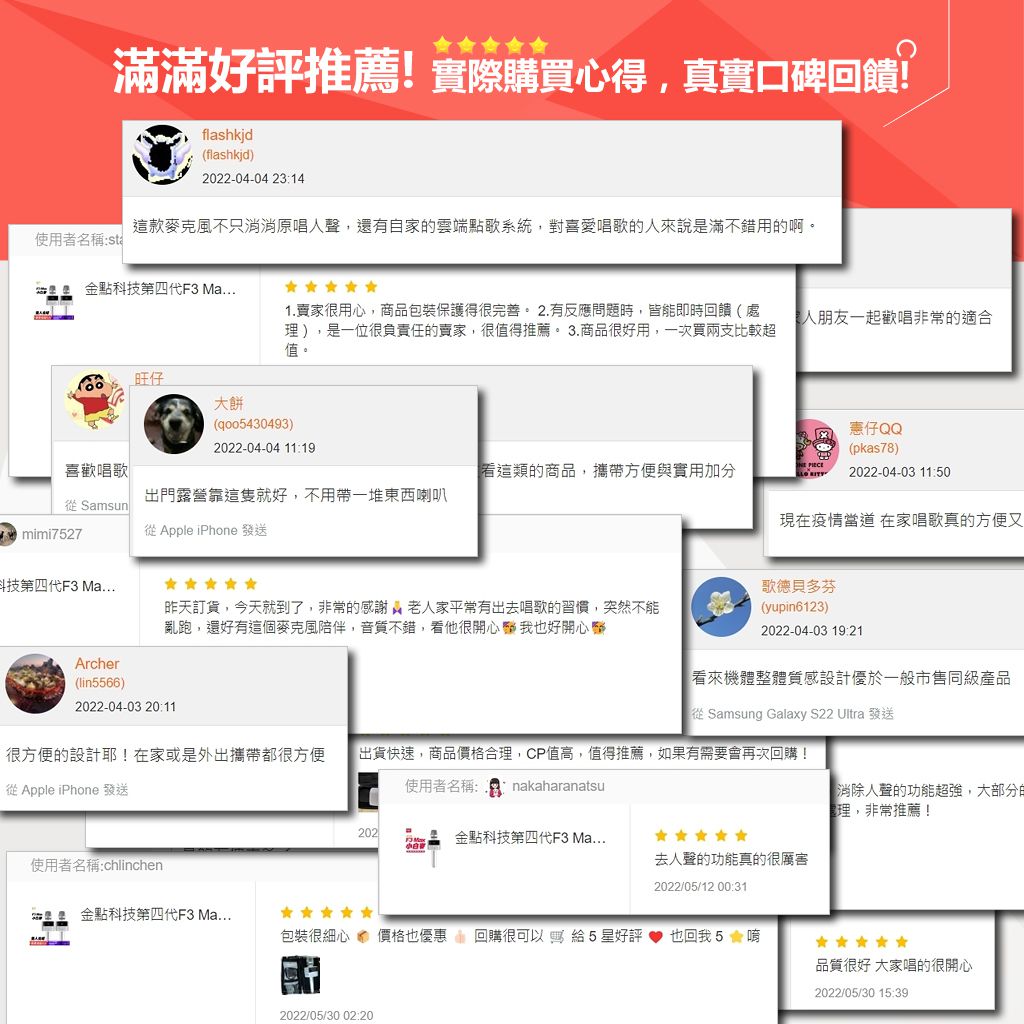 ▊Multiple uses/functions, one microphone lets you get started! 
#
F3 Max Xiaobaimai can not only sing, but can also be used for live broadcasts, meetings, and listening to music
[ anytime, anywhere ], so you can use it wherever you go!
▊Golden Point F3 Max has industry-exclusive features 
#
For all the friends who love to sing, an extraordinary auditory feast~
Pick up the 
F3 Max Xiaobaimai
 and make you a 
singer
 ! 
!
▊Choose a microphone and see here. A picture shows the advantages of a good microphone!
▊New Black Technology [Dual Bluetooth 5.0 Stereo Two-way Interconnection] 
#
Dual-microphone stereo synchronous playback of music and singing
Bluetooth transmission distance up to 20 meters
, one-button control of dual-microphone lifting, KEY and elimination of original singing
▊Remove the original vocal function 
#
Switch the accompaniment mode with one key, support all audio and video platforms ( Youtube/KKBOX/Apple MUSIC/Spotify... ), the songs all over the world become the accompaniment tapes in one second, ( two-channel left and right accompaniment songs can completely eliminate vocals , monophonic songs Can suppress vocals as a guide )
▊ 
Exclusive 13-segment lift KEY
It's hard to change the treble/mid/bass at any time for male / female tune . You can easily conquer every song .


▊Intelligently identify the output power of the audio source 
#
Are you still worried about connecting the microphone to the speaker and then connecting the amplifier ?
F3 Max Xiaobaimai can help you solve this trouble!
Connect speakers and headphones to a source line to help you easily get it~
▊Intelligent noise reduction music without distortion
▊Large-capacity power battery super long-lasting battery life 
#
The same level of electric vehicles , large-capacity power battery, low internal resistance and super long-lasting battery life ~ You can also sing while charging !
▊ Push-button operation is precise and fast
▊Big screen function display 
#
Large LCD screen , clearly view all functions, you can check the power without turning it on !
▊5 kinds of reverb/echo effect loop switching 
#
3-band space reverberation + 2-band echo effect, make your sound more three-dimensional !
▊Built-in [applause + laughter] dual sound effects 
#
Built -in dual sound effects , let you sing not monotonous ~
▊ Moving coil pickup
▊Dual Bluetooth 5.0 and multi-core processors 
#
Multi-core high-performance processor , low latency, high fidelity, clearer music and vocals !
▊Product Specifications
▊【F3 VS F3 Max】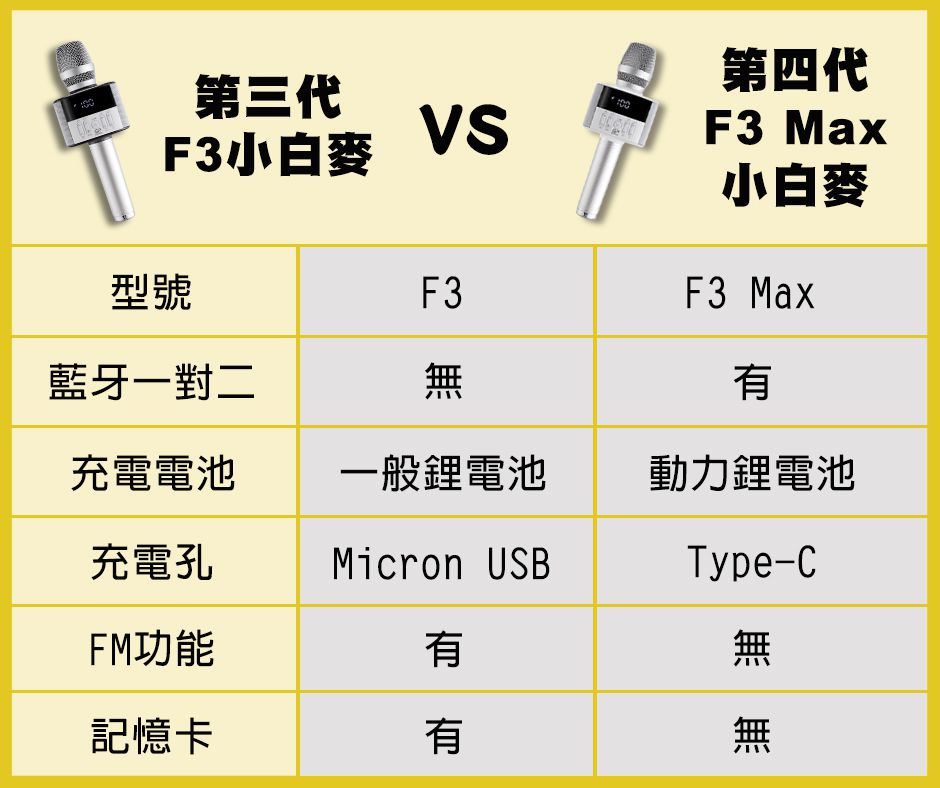 ▊【Designed in Taiwan. 

Eight patents] 

#
Since 2016, Golden Point Technology has developed and produced three Bluetooth microphones, including F1, F1+, and F3. The functions and quality of the Bluetooth microphones have always been leading the market . The products have won 8 microphone -related patents in the past 5 years !
▊【Won Taiwan double certification, quality assured and guaranteed】
Deluxe Edition:



microphone + sponge cover + charging cable + audio cable + 2 18650 power lithium batteries + microphone stand + dual-slot battery charging stand
---
(Deluxe) The fourth generation Golden Point Technology F3 Max Wireless Microphone Bluetooth Speaker